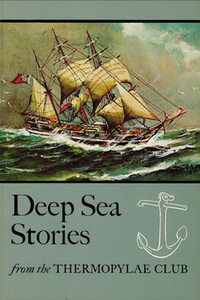 "Deep Sea Stories from the Thermopylae Club"
Regular price $9.95 $7.95 Sale
Deep Sea Stories from the Thermopylae Club
by Usula Jupp
About the Book
This book contains true stories of gales at sea, fire in port, a typhoon on the Yangtze River and many other adventures once told by seamen members of the Thermopylae (Sea Lovers) Club. They tell of boarding seas filling decks so deep with "green water" that sailors have floated on their depths; of a master mariner so skilful that his company could trust him to take his ship 45 miles up an Australian beach, then stay there loading bales of wool for a month before there came another tide high enough to refloat him.
A heavy gale sends a desperately damaged ship to the Falkland Islands for repairs – where she meets others in worse case than herself. Results of the Yokohama earthquake of 1924 are told from the viewpoint of the owner of a stevedoring business in that port; a Russian ex-naval officer tells of the complexities of commanding a Russian crew in New York in 1917, and other stories of adventure and challenge.
In lighter vein one story tells of a ship's officer who is unable to resist a joke on April Fool's day; another of a ship's carpenter celebrating the finish of a caulking job with a drop of Scotch; a third, the ingenuity employed by young seamen to satisfy their ever-ravenous appetites.
Included also are two poems and new facts about the ship Thermopylae and her Pacific crossings.