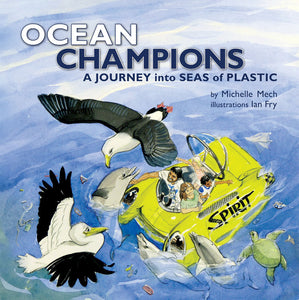 "Ocean Champions: A Journey Into Seas of Plastic"
Regular price $13.95 Sale
Ocean Champions: A Journey Into Seas of Plastic
About the book:
With over eight million tons of plastic debris entering the oceans every year from the land, the equivalent of one large garbage truck full every minute, educating our children on this devastating, colossal issue that may well impact their future is extremely important. Ocean Champions - A Journey into Seas of Plastic communicates this huge environmental concern to young children in an entertaining, well-researched, educational story that also empowers them to make a difference by influencing the adults in their lives and by taking action to become champions for our oceans.
Ocean Champions is beautifully illustrated and tells a tale of two children, Kai and Morgan, who are playing on a beach and befriend Botley, a plastic bottle they saved from being washed into the ocean. They soon discover a dolphin tangled in fishing net and call a rescue centre for help. The rescuers arrive in the super submersible, Spirit. Thus, begins a journey of discovery about the importance of our oceans and the devastating effects that plastic debris is having on marine animals, either through external entanglement that injures, traps, and often drowns them or through plastic ingestion, which causes suffering and often death.
The story presents the sad facts in a way that doesn't overwhelm. The child characters learn and accept and then go on to do something about plastic entering our oceans, inspiring readers to also become agents of change. The addendum provides more information, including actions and projects to reduce our use of plastic, which gives readers immediate ways to start helping.
Ocean Champions can be tailored and read to children as young as five years old while still being interesting and engaging to youth through to 13 years of age.
Through grants, Ocean Champions has been translated into Indonesian and Spanish for distribution to children in Indonesia and Mexico.