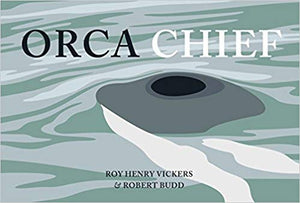 "Orca Chief"
Regular price $0.00 $19.95 Sale
Orca Chief
by Lucky Budd and Roy Henry Vickers
About the book:
In the third Northwest Coast legends book, renowned artist Vickers and broadcaster and author Budd retell and beautifully illustrate an ancient tale, which Vickers explains was first told to him by an elder in his grandmother's family. The story recounts the journey of four men who went out in their boat to fish and gather seaweed. Tired, they carelessly throw their anchor without saying a prayer that it will find a safe place to land on the ocean floor. They incur the wrath of the chief of all the orca whales when it lands on the roof of his underwater home, and one of the men harms a ratfish sent by the chief to investigate. They are brought before the chief by a powerful whirlpool. After admonishing them for being disrespectful, the orca chief demonstrates his kindness by asking his two best hunters to show his visitors how to best harvest the ocean's food. They also teach them to express gratitude to the plants and animals they're about to eat. This is a timeless story that stresses the need for a symbiotic relationship between human beings and nature and advocates for sustainable use of the ocean's resources; it should appeal to readers both young and old.