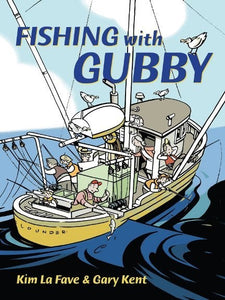 "Fishing with Gubby"
Regular price $15.00 Sale
Fishing with Gubby
by Kim La Fave and Gary Kent
About the book
Fishing with Gubby is the marvelously illustrated, authentic account of one season in the life of a salmon fisherman. Based on actual events, the story is told by award-winning children's illustrator Kim La Fave and former fisherman Gary Kent. Together they make the wharfs, boats, fishermen and villages of the BC coast come alive with remarkable detail and humour.

Gubby is a salmon fisherman who lives with his wife Millie and cat Puss in a small seaside village on the west coast of British Columbia. He keeps his boat, the Flounder--a 36-foot west coast salmon troller--at a local wharf with many other boats.

Gubby's journey first takes him up BC's west coast, through Georgia, Johnstone and Queen Charlotte straits and north past Port Hardy. He then heads into the open ocean towards treacherous Cape Scott, through to Winter Harbour and Quatsino Sound to settle in for a summer of fishing. Gubby and Puss face rolling rapids, rough and tumble storms and banks of fog, tussle with a basking shark and a pod of orcas, all while trolling for spring and coho salmon and visiting other fishermen and homesteaders along the way.

Part graphic novel and part ocean adventure story in the style of Raymond Briggs, Fishing with Gubby not only depicts the salty BC coast, it captures the vanishing "golden age" when fishing was more than just a job--it was a way of life.