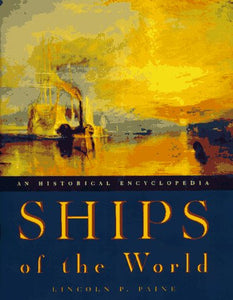 "Ships of the World: An Historical Encyclopedia" (used book)
Regular price $31.00 Sale
Ships of the World: An Historical Encyclopedia
by Lincoln P. Paine
About the book
Used book. Hardcover. Dust jacket included. Like new.
Shops have always played an important role in shaping human destiny, and this comprehensive and very readable encyclopedia covers more than one thousand of the world's best-known and most significant vessels of every size and type. Each ship is described in a vivid short essay that captures its personality as well as its physical characteristics, construction, and history, from the drawing board to the scrap yard or museum. Even fictional shops and boats, such as the African Queen, are included. Two hundred illustrations show the grandeur and grace of oceangoing vessels, maps help the reader follow the courses of great seafarers and naval campaigns, and chronologies offer a perspective on underwater archaeological sites, naval warfare, maritime technology, exploration, and disasters at sea.
Ships of the World is not only an invaluable reference but fascinating reading for anyone who has the slightest interest in history or who simply likes messing about in boats, whether on the water or from a comfortable chair at home.