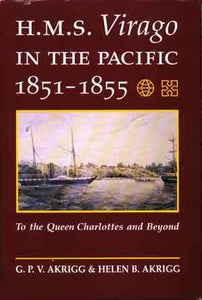 "H.M.S. Virago in the Pacific 1851-1855: To the Queen Charlottes and Beyond"
Regular price $19.00 $16.00 Sale
"H.M.S. Virago in the Pacific 1851-1855: To the Queen Charlottes and Beyond"
by G.P.V. Akrigg & Helen B. Akrigg
About the Book
Based on the journals and reminiscences of five of the ship's officers and men, HMS Virago IN THE PACIFIC 1851-1855 offers the reader a fascinating view of live aboard a British naval vessel in the mid-nineteen century.

The Virago called at many seaports, from the exotic South Pacific islands to the barely known Queen Charlottes and beyond. Life as it was lived by officers and crew is excitingly and accurately described, with a wealth of detail and the immediacy of personal experience. Adding to the reader's interest are pictures and sketches from journals and from contemporary magazines, and deftly reworked maps and charts.

Many of the recollections come from the Virago journal of George Hastings Inskip, acting master. Inskip was sharp-eyed, plain spoken and, professionally, absolutely reliable. His observations, as one might expect, are acute and pithy. More than just a series of recorded incidents and events, the pages of the book are alive with adventure and, indeed, romance. There are pirates and sea chases, ceremonies and receptions in the Society Islands, Hawaii, Mexico, Chile and elsewhere, with unexpected violent deaths at Pitcairn and Panama. The Virago's cruises from Esquimalt to Fort Simpson cast fresh light on early British Columbia, and the famous Governor Douglas makes notable appearances. There is an endearing image of the Virago's piper strolling the sands of the South Sea Islands in full highlands dress, followed by a crowd of natives enchanted by the sight and sounds.

An engaging and entertaining book, HMS Virago IN THE PACIFIC 1851-1855 will appeal to lovers of sea lore and history. This is a book for travellers of the mind, and for adventurous spirits everywhere.
-- From the dust jacket