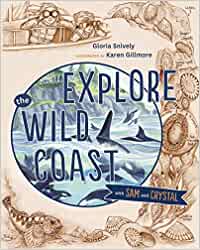 "Explore the Wild Coast"
Regular price $18.00 Sale
Explore the Wild Coast with Sam and Crystal
by Gloria Snively. Illustrations by Karen Gillmore
About the Book
Join eleven-year-old Crystal and her seven-year-old brother, Sam, as they travel by seine boat along the rugged Pacific coastline to visit their aunt Kate, a marine biologist, and uncle Charlie, a retired fisherman, at their home in a sheltered inlet called Eagle Cove. As Aunt Kate takes the children for walks along the beach and teaches them about marine life, tidal zones, and habitats, they meet a dazzling range of sea creatures and learn the importance of observing, respecting, and preserving nature. Colourful, engaging, and educational, Explore the Wild Coast with Sam and Crystal is both a delightful story and an indispensable learning tool for children ages eight to eleven.