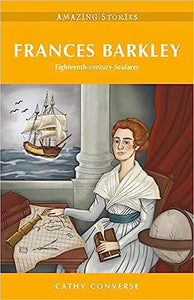 "Frances Barkley: Eighteenth-century Seafarer"
Regular price $10.00 Sale
Frances Barkley: Eighteenth-century Seafarer
by Cathy Converse
About the book
Over two hundred years ago, Frances Barkley, a seventeen-year-old girl fresh out of a convent school in France, met twenty-six-year-old sea captain, fell deeply in love, and married him after a six-week courtship. Five weeks later, she stepped aboard his ship, the Imperial Eagle, to set sail on an eight-year voyage that would take them around the world twice.
Frances Barkley's story is a remarkable one. It is a story born of discovery, of firsts, of hardship, of disease, of illness, and of death. Relying on her strength of character and wit, this young woman survived fierce seas, shipwreck, and capture by pirates. When Frances was approaching her seventh decade, at the behest of her daughter, she put pen to paper and wrote down what she could remember of her life with her husband in the merchant sea trade.
Frances Barkley: Eighteenth-century Seafarer is not simply a re-issue of Frances's own reminiscences, but a work of creative non-fiction—an extensive reimagining of her time at sea, supplemented through extensive historical, geographic, and nautical research.