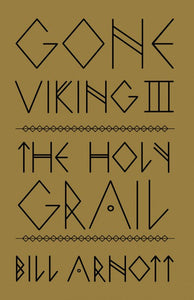 Gone Viking III The Holy Grail by Bill Arnott
Regular price $23.00 Sale
Join bestselling author Bill Arnott on this extraordinary adventure, trekking the ancient world, unearthing Viking secrets and more to reveal history's most elusive treasure, the holy grail!
Bill Arnott is at it again — he's "gone viking"! Granted a fellowship by London's Royal Geographical Society for his previous Gone Viking travelogues, Bill now takes readers on a new and unique adventure as he attempts to unravel the mysteries of fabled odysseys and legendary travellers, from seafaring Scandinavians to druidic Celts, goddesses, gods, and Arthurian knights. Discover storm-roiled coasts of the Atlantic and of the Baltic and Mediterranean seas and pursue pilgrimage paths across Europe, through Scandinavia and into the Arctic.
With unfailing humour, insight, and an infectious take on the world, this inquisitive traveller can be a companion and guide on what can only be called the ultimate quest, capturing first-hand exploration and new findings in Viking Greenland, Iceland, Denmark, Norway, Sweden, the British Isles, France, Germany, Spain, Belgium, Switzerland, Italy, Greece, and Turkey, with additional research into Poland and the city of Jerusalem.