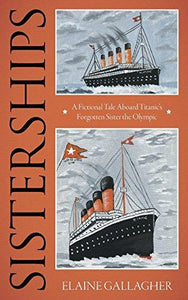 "Sisterships: A Fictional Tale Aboard Titanic's Forgotten Sister the Olympic"
Regular price $16.00 $13.00 Sale
Sisterships: A Fictional Tale Aboard Titanic's Forgotten Sister the Olympic
About the book:
Betsy Oakes—28 years old and a spinster in 1912—suddenly finds herself released from her employment as a governess in the home of a wealthy Birmingham factory owner. Grieving the loss of her young charge, and her relationship with the child's father, at the beckoning of a friend, she makes a difficult decision to leave her elderly father and immigrate to rural Canada.
Great excitement is mounting over the gigantic new White Star ocean liner, the Titanic, and Betsy manages to secure passage on the maiden voyage of that ship. Much to her disappointment  however, her immigration papers do not arrive in time and she is forced to accept
passage on the sister ship—the Olympic—on the next sailing. Her disappointment turns to relief as news of the Titanic's sinking reaches her hometown. Upon boarding the Olympic, Betsy meets the ship's stewardess and a friendship evolves when the two discover a myriad of common life experiences. But as the trip progresses, they discover even more significant common ground pertaining to their relationships with the opposite sex.
Finally, when all of their barriers to self-disclosure are erased, they discover that each of them had survived the tragedy of the sinking of the Titanic, albeit in very different and very shocking ways. Amazingly, on her arrival in Canada, Betsy is once again able to turn adversity into opportunity and while the reader may not condone some of Betsy's loose morals, he/she will come away with a profound respect for the inner strength of women of this era and the multiple challenges they faced.
* Last available copy