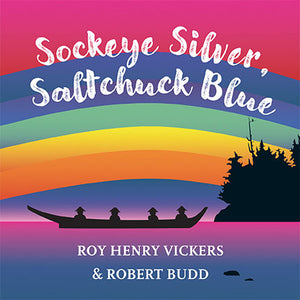 "Sockeye Silver, Saltchuck Blue"
Regular price $10.00 Sale
Sockeye Silver, Saltchuck Blue
by Lucky Budd and Roy Henry Vickers
About the book:
"Graceful, well-constructed rhymes pair with First Nations artist Vickers's crisp, luminous scenes… It's a gorgeous glimpse of the distinctive landscapes and creatures of the Northwest, and it will enchant residents and nonlocals alike."
―starred review, Publishers Weekly
With vibrant illustrations and a glossy tactile finish, this sturdy board book introduces babies and toddlers to a kaleidoscope of colours and the rhythm of changing seasons on the West Coast. Sockeye Silver, Saltchuck Blue follows the shifting spectrum of the Pacific Northwest including the quiet grey rain of winter, the verdant growth of spring, the jewel red tones of tart summer huckleberries and the shimmering scales of a spawning sockeye salmon as it turns from silver to red in fall. Like Hello Humpback! and One Eagle Soaring, this board book will be sure to enthrall the very youngest readers while introducing the delights of the natural world.