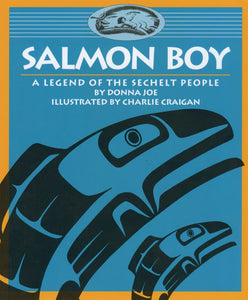 Salmon Boy: A Legend of the Sechelt People by Donna Joe, Illustrated by Charlie Craigan
Regular price $12.95 Sale
In 
Salmon Boy: A Legend of the Sechelt People
, a young boy is captured by a Chum salmon and brought to the country of the salmon people-a dry land beneath water where "the salmon people walked about the same as people do above the sea." The boy lived with them for one year, and his captivity becomes a source of learning that will ensure the survival of his own people.
After accompanying the salmon people on their run, the Sechelt boy hops out of the river and returns home to teach everything he has learned to his people who, from that time forward, treat the salmon properly and always have enough to eat. The salmon people, now respected by the humans, happily "give their rich flesh to feed the people of the land."
This beautiful story is accompanied by black and white illustrations of the boy and his adventures. Though written especially for children, 
Salmon Boy
, with its simple message of responsibility and respect, will appeal to all ages.
Prize(s): Winner BC 2000 Book Award (2000)