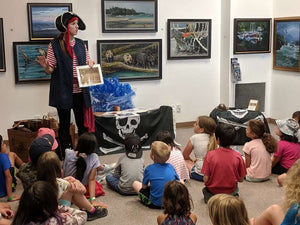 School Program - In-house (First 20 students Minus Booking Deposit)
Regular price $106.00 Sale
Our programs bring history to life by creating an interactive and fun environment for youth to engage, learn, and explore! Our programs are designed to connect and supplement teachers with core learning curriculum objectives. The requirements for various Girl Guides and Scouts badges can also be achieved with our programs. Each program offers interactive discussions, hands-on artifact exploration, and skill-building activities. 
Museum Admission PLUS Guided Program
Visit the Museum with your class to explore our exhibit space, hunt for pirate treasure on a scavenger hunt, and participate in an educational program, of your choice. Our educators lead the program's discussions, guiding students as they explore artifacts and participate in fun, skill-building activities.
$125 for up to 20 students
1 adult free per 5 students
Additional students $6 each
Additional adults $10 each