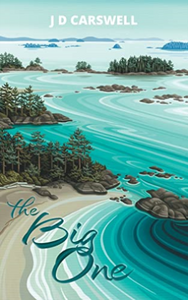 "The Big One"
The Big One
by J.D. Carswell
About the book
Locals call it "Circumnavigating the Island" – and arduous journey around Vancouver Island for even the most experienced. But to a dying father, it was the one last adventure he wished to take with his son.

Diagnosed with late-stage pancreatic cancer, and against his doctor's orders, the seventy-five-year-old father and fifty-three-year-old son dip their kayak into the ocean water to begin their last voyage. Relying on the son's experience as an outdoor hobbyist and past trawler deckhand, the son takes to the paddle while his father helps on – but the more they move forward, the more the son bears witnesses to his father's turmoil.

Often battling the idea of mortality and reminiscing about their past, father and son continue their journey through the often unforgiving environment. When close to calling it quits, they begin to find small blessings, reminding them of why they took to the water. Halfway through their adventure, their plans take a detour when they meet a young kayaker, Sarah, who is on a quest to find herself. The father and son quickly adopt her as one of their own, finding renewed energy to cont8nue their task as their duo becomes three.

As they bond over their love of kayaking, whales, and current events, the three find strength in each other, giving them each the courage to face the realities they wish to avoid. Yet, when an unimaginable and unforeseeable event rips them apart, they must remember that inner strength to carry them through.

An adventurous, endearing tale of the unpredictable nature of life, The Big One offers an escape from the everyday world, bringing to the forefront of what matters most – our family and friends.