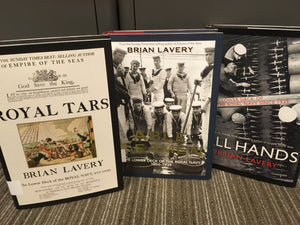 The Lower Deck of the Royal Navy (Series): Royal Tars / Able Seamen / All Hands, by Brian Lavery.
Regular price $38.00 Sale

Brian Lavery, one of the pre-eminent historians of the Royal Navy, turns his acute and wide-ranging analytical eye on to its 'lower deck' the world of the seamen as distinct from the officers of the quarterdeck. If not totally overlooked in the grand narratives of the Senior Service the lower deck is often only noticed when it is a problem. Seamen are difficult to recruit, sometimes they mutiny on board ship, they are liable to drunkenness or venereal disease, they tend to desert, or to behave in a feckless manner.

For the first time in a dedicated volume Royal Tars presents the authentic voice, life and social history of the lower deck. The ways in which, in a tightly controlled environment, it asserted its independence of authority and as part of this, established a strong and vivid culture with its own scale of values, language and rituals. Presented in an accomplished anecdote-led style based on diverse first-hand accounts, rare letters, primary documents and a careful examination of naval practice and regulation, the volume seeks to convey the character of the seaman, from the medieval navy through to the post-Trafalgar long peace. It explores the seaman's skills and daily routine, his living conditions and dress, his attitudes to those set over him and the regulations they made, and the experience of battle as seen from the gun deck or the fighting top.
Able Seamen addresses a range of issues central to the evolution of the seaman through 89 years of change. Readable, engaging and authoritative, it chronicles an important stage in the history of the Royal Navy and illuminates the inherent adaptability of the lower deck, as new technologies demanded increased professionalism, specialization, and training. The book also examines the changing social structure of the Navy, and the great demands made on the Service throughout the British Empire.
The Royal Navy was the largest in the world in 1939, and conscription during the Second World War increased the total of employed men to 790,000, the vast majority of whom were seamen of the 'lower deck'. Based on primary research and first-hand accounts, All Hands examines the lives of these sailors during a period that has seen the introduction of women, the end of hammocks and the rum ration, and ever more emphasis on technical skills.